I bought one from sportsman's guide on clearance. Used a home made lock and ride hold down. Worked perfect.
Here is the one I got, they are sold out but I think almost any adjustable one will work.
If you want me to shoot you some pics just PM me.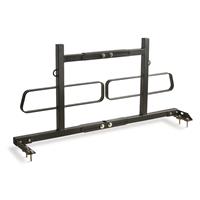 Sportsman's Guide carries top-quality discount Outdoor and Hunting Gear, Guns, Ammo, Fishing Supplies and more - all at great low prices!
Guide Gear Adjustable Headache Rack with Flat Bar Panels
Item # WX2-712145/Mfg. Number: 10105065/UPC: 885344876081